Store your games online using Y8 Storage. It offers static file hosting for game studios. Follow this guide to get access.
Rules
Don't share your password.
Suspicious use patterns will be blocked.
Use the given folders to keep everything easy to find.
Hosting is for sharing and backing up games you have developed or are authorized to share on the developer's behalf.
Illegal use or material will result in account investigation, removal, and ban.
Never link to storage-direct.y8.com in production or in high traffic places.
First Step
Check out the Getting Started Guide if you don't have an account or an application.
Next visit account.y8.com/storage_account and follow the instructions.
Connecting to SFTP server
To connect, you will need to download an FTP application that supports SFTP.
Connection details are found at account.y8.com/storage_account.
Screenshot Examples
Cyberduck
FileZilla (Keep default settings in other tabs)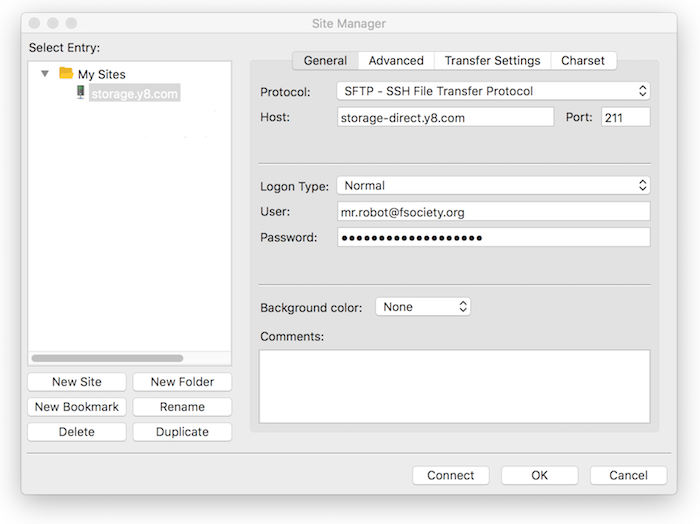 Connection Troubleshooting
Please allow at least 10 minutes before trying to connect with your newly created account, because it is not created instantly.
After a certain amount of failed logins, the system will block future logins attempts for a certain time.
Make sure port is set correctly (211). Common mistake is to try with port 221 instead.
Folder Structure
After you connect, there will be some folders created there for you. Do not rename or delete them, because new ones will be created again. Please use these folders to keep your content well structured.
_backups - If not using github, use this to upload assets and zip sources.
share - For sharing files with your team.
html5 - For hosting JS games (static files only).
flash - For Flash games.
unity - For Unity WebGl games.
Accessing the files
After uploading a game, test using an address like https://storage-direct.y8.com/USERNAME/unity/Sumo01/index.html
TESTING LINK: http://storage-direct.y8.com/spajus/unity/Sumo01/index.html
For production, remove the -direct part from link.
PRODUCTION LINK: http://storage.y8.com/spajus/unity/Sumo01/index.html
It is very important to remove -direct in production links. Games that will ignore this rule will get blocked due to exceeding storage server traffic limits. The production link uses edge CDN caching to speed up downloads.
File Access Troubleshooting
URLs are case sensitive, make sure your uploaded files and folders are linked with exactly the same case as they are named.
Make sure that permissions for uploaded files are rw-rw-r– (or 664) and for uploaded folders: rwxrwxr-x (or 775).
Add /index.html to the end of your url if you see error 500.
If you are using older version of WinSCP, try updating to latest and use SFTP Protocol version 5 from the advanced settings.
Versioning Games
If you need to change files that are cached, just rename your game folder and update the links.
Using an intermidary iframe will allow you to do this without breaking any upstream sites that correctly linked to the game.
external site > game iframe > gamev1.0.0
Resetting forgotten password
As Y8 Storage uses a seperate password, if you need to change it, visit account.y8.com/storage_account
After changing password, please wait 15 minutes before trying to use it, or you can get blocked for too many bad password attempts. It takes some time for server to apply the changed password.
Submitting game source code or backups
Put zipped files into the _backups folder. Don't worry if they disappear from the folder. This is expected behavior for archiving to the cloud.